"Are You Shopping At A Fake Farmers' Market?" by Beth Buczynski[
http://www.care2.com/causes/real-food/blog/are-you-shopping-at-a-fake-farmers-market
]
2010-11-30
Over the past few months, there have been several reports of markets selling faked "local" foods, demonstrating that some people will stop at nothing to make a quick buck.
The Center for Media Democracy [http://www.prwatch.org/node/9612] recently reported that the market manager of a California non-profit that operates 18 farmers markets in southern California caught a vendor repackaging Mexican produce to sell at a farmers market.
"Shannon Reid, who works for a company called Raw Inspiration, caught Kirby Wylie, an employee of a farm called Rancho Las Gordonises, repackaging cherry tomatoes for sale at a local farmers market in Glendale, California, and documented it with photographs. "After Reid confronted Wylie, he removed the offending items. But it isn't the first time either Wylie or Rancho Las Gordonises has been caught deceiving consumers. In 2007, Tulare County, California sanctioned Wylie for falsifying documents and suspended him from participating at farmers markets in the state for 17 months. He was also caught re-selling tomatoes at a market in Torrance, California. San Bernardino County also suspended Rancho Las Gordonises for 18 months and fined the business $2,000 for reselling pears and cherries."
And this disturbing trend doesn't stop with small time veggie-crooks.
The Wall Street Journal [http://online.wsj.com/article/SB10001424052748703399404575506562162038450.html?mod=WSJ_article_MoreIn_Food&Drink=] reports that "in June, several Safeway Inc. stores in the Seattle area posted signs with the term 'Farmers Market' above produce displays in front of their stores. When local farmers' market groups complained—the offerings included mangos, which aren't suited to Washington's climate—Safeway changed the signs to say 'Outdoor Market.'" Thanks to the quick response from local food advocates, a Safeway spokeswoman said the chain has no plans to call its outdoor events 'farmers' markets' in the future.
Safeway's move was later emulated by 200 Albertsons stores in Washington, Oregon and Idaho, which, despite complaints from the same advocacy group, claimed they would continue their marketing scheme if it proved effective. A strong movement supporting local food and farmers is growing up all over America, but corporations and dishonest vendors could threaten consumer confidence in what they're buying and hurt the success of small family farmers searching for a connection with their community.
To most people, the term "farmers' market" means something significant about the quality of the food they're buying, and the local families and farms they're supporting in the process. Now, along with all the other labels we have to doubt and question, assuming that "farmer's market" and "local" are synonomous could be a big mistake.
But, imitation is the sincerest form of flattery, and in the interests of looking on the bright side, this only means that the farmers' market movement is getting stronger, and definitely here to stay.
"Statewide protest targets new strawberry pesticide" by Kurtis Alexander from "Santa Cruz Sentinel"
2010-11-30
SANTA CRUZ - State regulators plan to give strawberry growers the OK to use methyl iodide this month. The pesticide, which kills bugs, weeds and disease that are particularly threatening to berries, is touted as a better alterative to methyl bromide, which is being phased out because of harm it's done to the ozone layer. But a last-ditch campaign is under way to halt approval of methyl iodide, citing problems with the alternate choice. "We've heard that methyl iodide is a carcinogen. That's not disputed.... So why are we even having this conversation?" said state Assemblyman Bill Monning, D-Carmel. Monning was among a coalition of environmentalists, researchers and organic farmers that gathered Monday at Jacobs Farm in Santa Cruz County - and at six other sites statewide - protesting the impending use of methyl iodide and asking the governor or governor-elect to block it. The Legislature, Monning said, was not in a position to intervene now and future legislative efforts would be slow and uncertain. "We want to stop it before it's in the fields," he said.
Critics of methyl iodide cite not only the proven cancer-causing qualities of the pesticide but the potential for methyl iodide to leach out of the field and contaminate water supplies.
[ ... ]
For more information:
"Calif approves use of pesticide linked to cancer"
[
http://www.sfgate.com/cgi-bin/article.cgi?f=/n/a/2010/12/01/national/a143424S98.DTL
]
"Methyl Iodide Controversy: Warning About Strawberry Field Chemical Ignored" [
http://www.huffingtonpost.com/2010/06/07/methyl-iodide-controversy_n_602904.html
]
"Methyl iodide: "Difficult, if not impossible to control"
[
http://www.panna.org/issues/related-umbrella-campaign/cancer-free-strawberries
]
"Say "NO" to new strawberry pesticide in California"
[
http://www.pesticidereform.org/article.php?id=354
]
Sonoma County
Local Heroes:
"Without Justice, There Can Be No Peace: In Conversation with Mary Moore" interview by Debra Birkinshaw
[
http://www.sonomacountyfreepress.com/bohos/MMinterview1109.html
]
Napa Valley
"Shooting probe continues as residents grieve for neighbor" by Rebecca Huval from "Napa Register" newspaper
[
http://napavalleyregister.com/news/local/article_ac1210c8-fc3f-11df-9403-001cc4c03286.html
]
2010-11-30-
On Monday morning, Peyton and Debbi Fatherree walked to the intersection of Meek Avenue and East Spring Street where their 60-year-old neighbor was killed in a confrontation with police Sunday afternoon in front of his Alta Heights home. The Fatherrees carried a memorial sign that read "We love you Richard" in bright blue letters. They leaned the sign and a vase of citrus-colored daisies against the oak tree that shades the spot where neighbors say the victim's body remained until 3 a.m. Monday. The Napa County Coroner identified the victim Monday as Richard Steven Poccia, a psychiatric nurse who worked at hospitals throughout the Bay Area, including San Francisco General Hospital.
[ ... ]
"Richard was the friendliest person," said Peyton Fatherree, who lives across from Poccia's home. "I'm so heartsick our friend was killed when he needed help." The victim's wife had called police for assistance at about 3 p.m., police said. Her husband was described as "possibly suicidal," they said. When officers arrived, they asked to speak with Poccia outside his house, 1405 Meek Ave., near East Spring Street. When Poccia exited his home, he got into a confrontation with four officers at 3:16 p.m., according to Napa Police Commander Steve Potter who declined to reveal the nature of the argument. One officer Tasered the man and another shot him, Potter said. Poccia died at the intersection before Napa Fire Department medics arrived at the scene, he said. Police declined to say what prompted the officer to fire his weapon. Neighbor Michael Tambornini, 306 E. Berna Ave., said he saw an officer fire a rifle 25 feet from Poccia. Tambornini was standing outside and able to see Poccia up until the moment he was shot, when an oleander bush obstructed his view, he said. The shooting is being investigated by the Napa County Sheriff's Office in keeping with the local protocol for officer-involving shootings, Napa Police Capt. Jeff Troendly said.
[ ... ]
Solano County [Vallejo, Vacaville, etc.]
"The Great Police Pay Race: Oakland at the top, but Vallejo a close second in battle to squeeze taxpayers (among California cites with the highest violent crime rates--source: CQ Press using 2009 FBI Data)." by Robert Schussel, Ph.D
[
http://ibvallejo.com/index.php?option=com_content&task=view&id=1010&Itemid=1
]
2010-11-27 -
Contra Costa County [Richmond, Concord, etc.]
"Kumon's National Book Month Charity Book Drive Benefits Shelter Kids" from "My Concordian" magazine
[
http://myconcordian.com/Issues/2010%20DECEMBER/10%2012%20Concordian%20Web.pdf
]
2010-12 -
In honor of October's National Book Month, the students at the Kumon Math and Reading Center of Concord collected more than 245 books to benefit Project Night Night, a local non-profit organization serving children in San Francisco.
Founded in 2005 by Kendra Stitt Robins, Project Night Night collects, assembles and delivers Night Night Packages, each of which contains a baby blanket, a stuffed animal and an age-appropriate book to help these children have a more restful night's sleep while living in shelters.
"It is our hope that children develop a love for reading as well as broaden their knowledge of the world around them," said Cynthia Ali, director of the Kumon Math and Reading Center of Concord. Kumon of Concord is located at 1825 Sutter St., Ste A. For more information about the book drive or to learn more about Kumon please call 825-9955. Visit www.kumon.com to learn more.
"Concord & Martinez Get New Police Chiefs" from "Diablo Valley Journal"
2010-12 -
Captain Guy A. Swanger has been selected as Concord's new Police Chief, replacing David Livingston, who is leaving Concord in January as the newly-elected Contra Costa County Sheriff. Capt.
Swanger currently leads the Investigations Division for the City of San Diego. In that position, he oversees 165 sworn investigators and 25 civilian support staff. He has served as Acting Assistant Chief responsible for 200 plus personnel in the Traffic Division and 100 plus personnel in Operational Support. From 2008-2009, he managed the San Diego Family Justice Center under the Office of the Mayor. He has vast experience in the development, implementation and training associated with Community Oriented Policing and Problem Oriented Policing programs.
[ ... ]
The City of Martinez also has a new police chief promoted from within. Commander Gary D. Peterson will take the helm from current Chief Tom Simonetti who is retiring. Commander Peterson has over twenty two years experience with the Martinez Police Department serving as a patrol officer, detective & SWAT team member, along with various other assignments. He has held the ranks of Sergeant & most recently, Commander since 2008.
"Native plant nursery sprouts up" by Greta Mart from "Martinez News-Gazette"
[
http://www.martinezgazette.com/news/story/i1783/2010/11/28/native-plant-nursery-sprouts
]
2010-11-28
In the shadow of an eight-lane freeway, a refinery and a chemical company that manufactures herbicides, a Martinez resident is hoping his new business venture will take root and thrive. Troy McGregor has started a native plant nursery on a lot he rented on Bridgehead Road off of Mococo. Called Garden Natives, the nursery sports row upon row of unique and appealing plants specifically chosen for their drought-resistant natures and suitability to the region.
[ ... ]
McGregor gives kudos to the folks at U.C. Santa Cruz's Arboretum, who tend the largest collection of Australian and South African natives outside those countries; he frequents their periodic plant sales and will select merchandise for his Martinez nursery. He looks for suitable, non-invasive plants and shrubs that will fit in with indigenous grasses and succulents.
As authors Brett Hall and Melinda Johnson explain in the magazine Pacific Horticulture, "each year, the Arboretum at UC Santa Cruz works closely with growers in Australia and here in California to introduce new plants through a unique program called Koala Blooms. In this collaborative effort, many impressive Australian plant cultivars are evaluated for their beauty, durability in landscape situations, potential for invasiveness, performance in nursery conditions, and sturdiness with regard to drought, weather extremes, and soil pathogens. From all the choice plants selected and trialed, only a few are introduced each year. The program generates a small income to support the Arboretum." He pointed to a few of his favorites, such as the Woolly Bush, a shrub that grows to six feet by four feet and "shimmers silver in the sun," banksias, a shrub with an unusual flower head; and leucadendron.
McGregor's new nursery is open Wednesdays through Fridays from 10 a.m. to 6 p.m. and Saturdays from 9 a.m. to 4 p.m. His website contains DIY guides and a plant database. See www.gardennatives.com for more information; you may also call McGregor at 925-818-4460.
Marin County
"Marin Organic and Novato school volunteers join forces ...and glean our Hero of the Week award" by Nikki Silverstein from "Pacific Sun" newspaper
[
http://www.pacificsun.com/news/show_story.php?id=2494
]
2010-11-30
Marin Organic and Novato school volunteers joined forces to harvest and donate a truckload of fresh organic vegetables to the Marin Food Bank and other local groups feeding folks in need. More than 100 teachers, students and administrators went into the fields and gathered salad greens, spinach and more. The bounty, called gleaned food, is produce that's usually left in the fields simply because it's not pretty enough for restaurants or markets to buy. Enter Marin Organic, a cooperative of organic growers that began donating gleaned food to schools about five years ago. With Novato schools out for Thanksgiving, Marin nonprofits benefit from the labor of the school volunteers and the efforts of Marin Organic. That's a lot of Heroes this week and we give thanks to every one of them. (To learn more about Marin Organic, check out marinorganic.org .)
"PG&E charges ahead Is utility manipulating rates to undercut Marin Clean Energy?" by Peter Seidman from "Pacific Sun" newspaper
[
http://www.pacificsun.com/news/show_story.php?id=2486
]
2010-11-26 -
[ ... ]
No one expected PG&E to sit idly by while public-power entities across the state began buying electricity from suppliers other than the utility, but the virulence of its pushback and aggressive, some charge illegal, marketing has been strong enough to raise eyebrows. Even so, say backers of Marin Clean Energy, reports of the entity's imminent demise are greatly exaggerated. They do, however, acknowledge the serious challenges they face in defending against what amounts to a monopoly that has state support.
The day before Marin Clean Energy started supplying power to its first customers (which now number about 9,000 and will increase to about 80,000), the new agency submitted a formal request to the CPUC asking for financial penalties to be assessed against PG&E for unfair marketing tactics used to drive people away from Marin Clean Energy. Paul Clanon, executive director of the CPUC, sent PG&E a message saying it "must comply with the entirety of AB 117, not just portions." That's just one in a litany of complaints about PG&E throwing its muscle against public power.
PG&E critics think the CPUC should be tougher on the utility and assess fines and sanctions. Clanon was at the Nov. 8 hearing. He declined to commit his agency to taking any specific action. The foundation of Marin Clean Energy and other public-power plans in California rests on AB 117, legislation that took effect in 2002 and cleared the way for communities to form their own public-power agencies and buy electricity from any provider.
[ ... ]
Alameda County [Oakland, Berkeley, etc.]
"Wells Fargo Attacked In Berkeley" communique from "Friends Of Ron Dellums"
2010-11-26 -
"Stop normality.
During the first hours of Thanksgiving Day, the front windows and door were smashed out of the Wells Fargo on College Avenue. This was done for Oscar Grant. Normality stops only when it is interrupted. On Black Friday, the people shopping on the avenue will see the topmost windows of the bank boarded up. Solidarity to the sisters of London, Alfredo, and the people of Oakland. Omnia est communia." -Friends Of Mayor Dellums
San Francisco city:
"SF Squat Bust Doesn't Stop Housing Liberation Action" by Michael Steinberg (blackrainpress [at] hotmail.com)
[
http://www.indybay.org/newsitems/2010/11/27/18665111.php
]
San Francisco, Friday, November 26-
Police raided a building occupied by squatters in the city's Mission District this morning. The housing activists, members of the Creative Housing Liberation Group, had taken over the long vacant building for over 24 hours. The takeover group was part of an action organized for Black Friday to create a radical alternative to capitalism's zombie toxic shopping day. At a rally at 16th and Mission streets this afternoon, Ted Gullicksen of the San Francisco Tenants Union and Homes Not Jails set the tone for the action with these words: "There are 36,000 empty housing units in San Francisco. The city should be taking them. People should be living in them. "But since the city isn't doing this, so we need to go out and take these buildings, and people need to turn them into housing--now!"
[ ... ]
Meanwhile, as these kinds of shenanigans continue all over San Francisco and beyond, the cold has come to town, and people living outside will start to suffer from it, even die, while shoppers max out their plastic during this "season of sharing" and real estate investors bide their time in overheated offices. In the end the solution for the city and the speculators is the same: Board up the empty buildings and keep the people out at all costs. We marched back to 16th and Mission, still in the streets, where Food Not Bombs provided our holiday meal, and festivities went on. As we returned the chant went up, "Occupy Everything, Fight, Take Over!" If the authorities thought their bust would spoil this party, they miscalculated. Because the problem is too impossible to ignore, and our spirit of resistance is too big to fail. For more info, go to the Creative Housing Liberation Group's Facebook site.
"Emergency forum Tues. / 30 on HANC recycling center eviction" by Rebecca Bowe from "San Francisco Bay Guardian" newspaper
[
http://www.sfbg.com/politics/2010/11/30/emergency-forum-tues-30-hanc-recycling-center-eviction
]
2010-11-30
An emergency community forum will be held tonight, Nov. 30, about the Recreation and Parks Department's plan to evict the Haight Ashbury Neighborhood Council (HANC) Recycling Center from a parking lot in Golden Gate Park. If Mayor Gavin Newsom and his former chief of staff, Rec & Park General Manager Phil Ginsburg, succeed in their plan to evict the 36-year old recycling center, they'll kill 10 green jobs, eliminate a rare source of income for poor people, and put an end to a community resource that costs San Francisco taxpayers nothing.
HANC believes the recycling center is being targeted by Newsom's administration as a form of political payback, since the progressive organization opposed Proposition L, the sit / lie ordinance, which Newsom supported. Ginsburg wants to evict the recycling center, which pays rent to the city, and replace it with a community gardening center that would cost $250,000.
The shaded lot doesn't seem like an ideal site for growing produce. A memo issued Nov. 29 from Ginsburg to Rec & Park Commissioners notes that it is legal for the department to move forward with the eviction without commission approval.
Apparently, Newsom's administration intends to send 10 people to the unemployment line and kick a 36-year-old green resource to the curb without any public input, despite receiving 400 postcards from San Francisco residents opposing the eviction. The Rec & Park Commission will take up the issue of the new community garden center at its Thurs., Dec. 2 meeting.
Sacramento metro:
"Sacramento Police Kill As More Information on Modesto Police Brutality Comes Forward"
[
http://www.modestoanarcho.org/2010/11/sacramento-police-kill-as-more.html
]
2010-11-03 -
In a situation mimicking police murders in Stockton, Modesto, and Bakersfield, Sacramento police are coming under fire for the shooting death of a 28 year old man on October 28th. Officers stopped a man on parole, and when he "reached into his waist band," officers claim he was reaching for what they perceived as a weapon and shot him three time. The man was shot by Twin Rivers School Police after he was stopped and then tasered twice.
Police harassment is something that is common in the local area, according to residents. Also, a new public letter from a Modesto Police Officer leaked on the Voice of Modesto blog also details further brutality and covering up of wrong doing on behalf of the MPD. Furthermore, the letter states quite clearly that Modesto Police higher ups are well aware of complaints about brutality - and are doing nothing to stop it or investigate it.
Letter is reprinted here and is posted at [http://voiceofmodesto.org/wordpress/?p=1177] -
Mr. Frank Carson:
I am a longtime MPD employee and just read the Modesto Bee article regarding Sergeant Plante. Thank you for the courage that you show in defending the right position. The majority of MPD are happy that you disclosed this. Fact is, police brutality is still going on and the solid hardworking police officers have reported this ongoing activity to Captain Balentine and Chief Harden who have done NOTHING about it.
These criminal allegations about police brutality on graveyard night shift known as "5B" have gone on for several years. Captain Balentine and Chief Harden have turned their heads the other way. Veteran employees Kelly Rae and Dave Brown, to name only a few, have directly reported police brutality and mistreatment of Modesto Citizens to upper management. These two officers have also confronted Lt. Cloward.
Cloward has directed sergeants to leave these guys alone.
Lt. Cloward, Captain Balentine and Chief Harden are all K-9 buddies and will protect each other. The officers committing these acts are James Murphy, Orrin Nelson, Florencio Costales, and Joe Lamantia. All work together and pick on gangster types and helpless citizens. Lamantia just killed a man armed with a spatula.
The veteran officers who will tell the truth about this brutality are Sergeant Dan Sharder, Sergeant Carlos Castro, Officers Kelly Rea, Mike Thomas, Joe Torres and Dave Brown. Officers Rea and Brown have actually been keeping notes because they are so fed up with Captain Balentine and Chief Harden ignoring this ongoing police brutality problem. Brown and Rea have specifics as far as dates, times and case numbers. They will not cover this up.
Mr. Carson, I suggest you subpoena all of these people along with K-9 use of force reports (especially Murphy's dog) and I bet the chief will try and hide behind these use of force reports. Chief Harden has no credibility or integrity and will protect his upper management.
You should also subpoena city manager Greg Nyhoff as he has apparently been informed of the mistreatment of citizens and has also failed to deal with Captain Balentine or Chief Harden on these very well known issues.
Copies of this letter have been sent to the Modesto Bee and City Council as well.
I would tell you my name, but I am afraid of retaliation.
"Family Calls Twin Rivers Police Shooting Brutality; 28-Year-Old Man Shot Multiple Times"
[
http://today.msnbc.msn.com/id/39943471
]
2010-11-01-
SACRAMENTO, Calif. — KCRA.com
The family of an unarmed man shot by Twin Rivers police is calling it police brutality. A number of investigations are underway to determine if the officer-involved shooting was justified. The shooting happened at Nogales and High streets on Thursday. Loretta Lozano said she wants Twin Rivers School District police to answer why they shot her 28-year-old son more than once on Thursday.
"To shoot him three times -- that is beyond excessive force as far as I'm concerned, tasing two times is plenty," Lozano said. Several investigations are underway. Police point out an officer was just on routine patrol when Richard Sazo refused to stop. The Twin Rivers Police Department said using a firearm was the last resort. "He was afraid for his life, so he chose to use his firearm after the Taser proved to be ineffective twice," said William Cho, with the Twin Rivers Police Department. Some neighbors and family told KCRA 3 three school police have been harassing people outside of school grounds.
"When I pass by, they are just like real aggressive and they are school cops," Sazo's godmother Patricia Nevotti said. "They are supposed to be on our side, and now for this to happen right now. This is wrong and I hope there is some justice going on right now," Sazo's cousin Lina Neal said. Schools and parks are the focus of the Twin Rivers Police Department, but officers said they have the same authority as any peace officer and can't ignore their surroundings. "You wouldn't want him just to turn a blind eye just because it happens to say something else on his patch," Cho said. The family said it is demanding a thorough investigation. "You can't just go around shooting anybody that they think looks suspicious. My son didn't have any weapon on him at all," Lozano said. The Twin Rivers Police Department has launched three separate investigations to see if the shooting of the unarmed parolee was justified.
Stanislaus County [Modesto, etc.]:
"Murder of Craig Prescott in County Jail Shows Rampant Brutality of Sheriff's Department"
[
http://www.modestoanarcho.org/2010/11/murder-of-craig-prescott-in-county-jail.html
]
2010-11-24 -
In 2009, Craig Prescott was tasered and shot with pepper balls by guards in the Downtown Stanislaus County. Prescott was in fact a former guard of the institution, until he came under investigation after being charged with providing tobacco to an inmate. Later, Prescott's wife had Prescott incarcerated after he suffered a nervous breakdown. After two days of being in the jail, Prescott was still in mental distress; and that's when guards came in and began to taser him. Prescott in one of six people in the last year to die within the Stanislaus County Jail. He is among one of half of those six's families who are launching lawsuits against the Stanislaus County Sheriff's Department in wrongful death suits. This week, Prescott's family released a video from inside Prescott's cell. It was shot by the guards after Prescott was tasered. Sheriff's claim that there was no video taken showing Prescott being tasered and shot with pepper balls...yeah right! Of course this is bullshit, the police are simply deciding what evidence they are going to release. After Prescott was attacked, he was moved into another cell. When his condition did not change, he was moved again to a hospital, where he died two days later. Prescott's family claims that Craig in fact was killed not by the tasers, but instead by police suffocating him to death while in his cell. According to the cops lawyers, Prescott died from a heart condition, while an autopsy conducted by Prescott's family showed that he was in fact suffocated to death. Either way, the Stanislaus County DA's Office was quick to find the Sheriff's Department completely without fault. So much for blind justice. A civil suit is set for 2012 in Fresno. The family of Sammy Galvan squared off against the Modesto Police in Court here several years ago, after police brutally shot and killed their son in 2004, only to lose in court thanks to police lies and corruption. Prescott's case helps to expose the rampant brutality and murder that continues to this day within the walls of the jail. We have to break through the silence enforced by the violence of the state and stop these atrocities from happening again. Revolt on the inside - revolt on the outside! View the video released by Prescott's family below. Here they claim (after Craig was shot with tasers) he is actually dying and being suffocated by the guards) then, only to be moved to another cell.
[
http://www.youtube.com/v/MSVPZMtlFa0?fs=1&hl=en_US
]
"The FBI Couldn't Fix a Toaster: On the Recent Push to Investigate the Modesto Police"
[
http://www.modestoanarcho.org/2010/11/fbi-cant-solve-anything-on-recent-push.html
]
2010-11-21 -
In September of 2010, the Modesto Police shot and killed Francisco Moran, a family man who was in the middle of a heated argument at his home. In his waistband, Moran had a wooden spoon, which police claimed at first was a knife that he used to try and attack them with. Police shot and killed Moran in cold blood, and later admitted that the knife was in fact just a "spatula," although family members contend it was only in fact a wooden spoon. [http://www.modestoanarcho.org/2010/09/francisco-moran-spatchula-turns-out-to.html]
Then in later September, the Stanislaus County Sheriff's Department killed Rita Elias, a mother, in West Side Modesto. Rita was shot by Kari Abbey, an off duty Sheriff who was helping her landlord parents evict Rita. An argument ensued (wouldn't you be pissed?) and Rita was shot to death by the off duty Abbey. Days later, police then claimed that Rita just happened to have a realistic looking bb gun on hand, and had pointed it at Abbey. Abbey shot and killed Rita in self-defense. Of course, we've heard this story a million times. Alberto in 2000. Sammy in 2004. Moran and Rita in 2010. How many more must die?
At the same time, 6 people died in the County Jail in the past year, half admittedly due to police tasers, and half of the victims families are suing the Sheriffs. Couple this with explosive protests in Modesto, including large scale mobilizations in West Side, roving marches in the downtown, and the distribution of large amounts of anti-police brutality literature - and the pigs in this city were starting to feel the pressure.
[http://www.modestoanarcho.org/2010/09/pictures-and-video-from-protest-against.html]
[http://www.modestoanarcho.org/2010/10/people-hit-streets-as-ex-cop-details.html]
[http://www.indybay.org/uploads/2010/10/24/timeline_2008-2010.pdf]
The dam really started to break however, when a retiring police officer sent out an email talking about the "good ol' days" when police would do "B and Rs," or "Beat and Releases." This was followed by another email that was anonymous, but also stated that the brutality detailed in the first letter was still happening - and everyone in the police hierarchy knew it was going on, despite internal protests. Read that email in full here. [http://voiceofmodesto.org/wordpress/?p=1177]
[ ... ]
Northern California
"Practice makes safety: 20 agencies coordinate for mock Shasta Dam attack" by Dylan Darling from Record Searchlight
[
http://www.redding.com/news/2010/nov/17/practice-makes-safety
]
2010-11-17
-
Photo by Greg Barnette [ not shown here] Brian Banning (from left) of the California Emergency Management Agency, Holly Powers of the Oak Ridge Institute of Science and Education, Mike Dayton of the California Emergency Management Agency and Frank Calvillo of Homeland Security watch during the Shasta Dam Full-Scale Exercise on Wednesday. The exercise, put on by the Bureau of Reclamation, brought together 20 federal, state and local agencies. - Bomb blasts that blew apart a car and a bus at Shasta Dam were distractions to allow terrorists time to take hostages and control of the nation's second-largest dam. Luckily for the north state the dramatic scenario Wednesday was part of a 12-hour terrorist drill at the dam and not real. The goal was to ensure local, state and federal agencies could respond to such a situation and reclaim the dam. More than 250 people from more than 20 agencies took part, said Sheri Harral, Shasta Dam's spokeswoman for the Bureau of Reclamation. "It's not just a couple of agencies," Harral said. "It's 20." Led by the Bureau of Reclamation — the federal agency that oversees the massive concrete dam that creates Lake Shasta — medical, fire and police agencies responded to the mock terrorist attack. During the drill the dam, the roads leading to it and a pair of popular fishing boat ramps were closed. Part of the Bureau's Critical Infrastructure Crisis Response Exercise Program, which started in 2003, the exercise was the first of its kind at the dam, Harral said. Similar drills took place at Utah's Flaming Gorge Dam in 2003, Washington's Grand Coulee Dam in 2005 and Hoover Dam on the Nevada-Arizona line in 2008. A similar drill is set for Folsom Dam next. The federal government identified the six dams as possible terrorist targets. Harral said the reclamation bureau's role in the drill took 18 months of planning and cost $500,000. The other agencies that helped in planning and performing the drill covered their own costs. The Shasta Dam scenario began with the two mock bomb blasts followed by the "Red Cell" terrorist group taking over the dam in an effort to free one of their fellow marijuana growers from prison. Holding three people hostage, they threatened to flood the Sacramento River by rolling open the drum gates atop the dam. Those gates hold back the nearly full lake. To show their seriousness in the drill, the Red Cell twice pretended to release water from the dam. Each of the dam's three drum gates can release up to 66,000 cubic feet per second when the dam is full — 198,000 cubic feet per second in all — while the river's channel can only handle 79,000 cubic feet per second, said Pete Lucero, reclamation bureau spokesman in Sacramento. Such a terrorist attack could flood parts of Redding and the Central Valley. "The river channel won't be able to handle the water coming out of (Shasta Dam's) gates," he said. In the end the Shasta County SWAT team raided the dam and the hypothetical flood didn't happen. "We had them go in, search for and neutralize the Red Cell," Lucero said. While the drill offered the bureau a chance to see how its security at the dam would respond to such an attack, and the SWAT team the opportunity to test its skills in the field, Lucero said it also provided training for medics, firefighters and bomb squad members. About 30 students studying to be firefighters played the role of the bus bomb blast victims, with tags telling medics their injuries. Near the end of the drill late Wednesday afternoon, Lucero said everything went according to plan. He said it was too early to tell what changes, if any, might be made as a result of problems discovered during the drill. "That we will know later on tonight and as we debrief it tomorrow," he said.
"Federal and State Police Conduct Marijuana Terrorism Drill" by Phillip Smith
[
http://stopthedrugwar.org/chronicle/2010/nov/18/federal_and_state_police_conduct
]
2010-11-18 -

Northern California pot growers bomb a car and a bus, then take over Shasta Dam in a bid to free an imprisoned comrade. It sounds like the plot to a very cheesy Grade-B thriller, but it was actually the premise for a day-long terrorist attack drill conducted by 20 state, local, and federal law enforcement agencies Wednesday. According to an account published in the local paper the Redding Record Searchlight, the Shasta Dam scenario had the "Red Cell" pot grower/terrorists blowing up the car and bus to create a distraction and then taking over the dam. Holding three people hostage, the terrorist pot growers then threaten to flood the Sacramento River by opening the flood gates unless their imprisoned comrade is freed. The drill was part of the US Bureau of Reclamation's Critical Infrastructure Crisis Response Exercise Program, which started in 2003. It identified six dams, including Shasta, the nation's second largest, as possible terrorist targets. Similar exercises took place at Utah's Flaming Gorge Dam in 2003, Washington's Grand Coulee Dam in 2005, and Hoover Dam on the Arizona-Nevada border in 2008. But none of those exercises identified pot growers as the putative terrorists. According to bureau spokesperson Sheri Harral, the drill took 18 months of planning and cost the bureau $500,000. The other emergency and law enforcement agencies that participated paid their own expenses. As of press time, Harral had not returned a Chronicle call asking why marijuana growers were selected as the terrorists. Northern California is home to thousands of pot growers, many of them doing it legally under the auspices of California's medical marijuana law. There are no known incidents of pot farmer terrorist attacks on critical infrastructure. Dale Gieringer, head of California NORML and an observer of the state marijuana scene for decades, told the Chronicle he was unaware of any California pot grower terrorist cells—ever. "No, never," he said. Nor was he impressed with the pot grower as terrorist scenario. "That was so stupid," he sighed. "I don't know what inspired it. I can see the need to do better pat downs for air travelers to make sure they're not holding joints in their underpants, but this? It sounds like something some yahoo red county sheriff would dream up." Neither was the Marijuana Policy Project amused. "This is a classic example of law enforcement's utterly inaccurate stereotype of who is involved with marijuana," said the group's communications director, Mike Meno. "For decades, they have villainized users and people involved in the industry to such an extent that they now equate them with terrorists. It might be laughable," he said, "but it gives us real insight into the drug warrior mentality and what they think of marijuana people." "The whole idea that they would equate growers with terrorism is absurd and insulting," sputtered NORML founder Keith Stroup. "This is too ignorant to take seriously. It's hard to imagine that in this time of fiscal crisis, someone would have the nerve to propose spending money on such a ludicrous exercise. My goodness! Of all the potential violent criminals out there, the idea that they would focus on pot growers shows that this is a political game," he said. "People will be laughing about this for decades," Stroup continued. "You have almost half the people in California voting for marijuana, and on the other hand, this. It's hard to believe this is going on. At least, they could have called it the "Green cell."
Sovereignty:
The People have the sovereign power to do anything to themselves as long as it does not infringe anyone else's rights. The Drug War is an illegal operation according to the Constitution for the united States, it is a process of Fascism. Alcohol and Tobacco kills untold millions, is addictive, and is allowed to be legally obtainable...
"Fake pot chemicals banned by DEA" by Henry K. Lee, San Francisco Chronicle newspaper
[http://www.sfgate.com/cgi-bin/article.cgi?f=/c/a/2010/11/24/BAIH1GHAQS.DTL]
2010-11-25 -
The federal Drug Enforcement Administration is banning five chemicals used to make "fake pot" products sold online and at head shops, agency officials said Wednesday. Possessing and selling the chemicals will be illegal in the United States for at least one year, while the DEA and the U.S. Department of Health and Human Services determine whether they will be permanently banned. The action comes amid the increasing popularity of smokable herbal blends marketed as being "legal," the DEA said. The substances consist of plant material that has been coated with research chemicals that mimic THC, the active ingredient in marijuana, and provide a marijuana-like high, authorities said. The "fake pot" items include brands such as "Spice," "K2," "Blaze," and "Red X Dawn."
"HUMANE DRUG-CONTROL MEASURES" letter from Donald C. Smart, Oakland to the editor of "San Francisco Chronicle" newspaper, Re: "Failure of war on drugs opens way for new strategy" by Joe Amon ( Insight, Nov. 21 )
2010-11-28 -


The evidence supporting Amon's indictment of the "war on drugs" is valid. The prosecution and jailing of drug users does nothing to cure addiction and protect drug-user health: It further wrecks young lives, often converting drug users into more hardened criminals. Amon is right in saying we should decriminalize drug use and make treatment readily available. That is what the Portuguese are doing, and it works to reduce drug use, addiction and all related health and social pathologies. Amon's evidence doesn't support legalizing drugs' manufacture and sale. The Portuguese have not done that, and their experience proves that it's not necessary to do so. We in America should reform drug control in a manner consistent with consumer protection philosophy. Instead of treating drug users as criminals, treat them for what they are - victims of criminals who manufacture and sell drugs, tricking young people to experiment with these health-destroying substances.
Your readers can learn more about rational, humane, and effective drug control measures at [http://www.pdpi.org].
"US Supreme Court Hears California Prison Crowding Case Advocates Urge California to Focus on Resolving Crisis, Including Ending Prison as Response to Drug Use; 10,000 in Prison for Drug Possession at Cost of $500 Million a Year"
[
http://www.drugpolicy.org/news/pressroom/pressrelease/pr113010.cfm
]
For Immediate Release: Tuesday, November 30, 2010. Contact: Margaret Dooley-Sammuli 213-291-4190 or Tommy McDonald 510-229-5215
WASHINGTON, DC – The United States Supreme Court heard oral arguments today in Schwarzenegger v. Plata, a landmark prison rights case in which a federal court found the unconstitutional conditions of California's prisons were caused primarily by overcrowding and ordered California to reduce prison overcrowding from over 200% of design capacity down (by about 40,000 people) to 137.5% of capacity within two years. California has conceded that the state's prison conditions are unconstitutional but has nonetheless asked the Supreme Court to put the states' right to administer its prisons before the constitutional rights of individuals who are wards of the state.
"One of the primary reasons that the state's prisons are dangerously overcrowded is that California continues to lock up thousands of people each year for low-level drug possession. There is no basis in evidence or principle to expose people to this dangerous environment simply for the possession of a small amount of illicit substances," says Margaret Dooley-Sammuli, deputy state director for the Drug Policy Alliance in Southern California. "California must follow the lead of other states like Texas and New York and stop sending people to state prison for drug possession, which can be handled as a health issue safely, effectively and affordably in the community."
"

The state currently spends $500 million a year to incarcerate 10,000 people for nothing more than personal drug possession

," Dooley-Sammuli continued.
"That does not include the unknown number of parolees who have been returned to prison for a few months based on the results of a drug test. This is a terrible waste of scarce resources. Treatment in the community is effective and affordable. Unfortunately, California this year eliminated funding for community-based treatment for drug possession arrestees."
"People who use drugs do not belong in the state's cruel and costly prisons simply for that personal use. We urge California to take the logical step of ending incarceration as a response to drug possession, while expanding opportunities for drug treatment in the community," continued Dooley-Sammuli.
"Incarceration's Effect on Economic Mobility" by Stephen Lendman Wednesday
[
http://www.indybay.org/newsitems/2010/12/01/18665368.php
]
2010-12-01
The Pew Charitable Trusts "uses public opinion polling and other research tools to produce reports that track important issues and trends." Its new report is titled, "Collateral Costs: Incarceration's Effect on Economic Mobility," focusing on America's burgeoning prison population and enormous cost. Now over $50 billion annually, it "consum(es) 1 in every 15 general fund dollars."
[ ... ]
Over 2.4 million prisoners are in federal and state facilities, local jails, Indian, juvenile and military ones, US territories, and numbers held by Immigration and Customs Enforcement authorities (ICE). Half are for nonviolent offenses, many for political activism, and thousands there are immigrant Latinos forced north because NAFTA destroyed their livelihoods and way of life. They're now persecuted ruthlessly by a repressive nation. Today, America's prison population is the world's largest, exceeding China's at four times the population and the top 35 European countries combined. It wasn't by accident. It followed the last 30 year shift to the right, the war on drugs, get tough on crime policies, three strikes and you're out, a guilty unless proved innocent mentality, and overall judicial unfairness. It's especially impacted society's poor and disadvantaged, people of color mostly, comprising two-thirds of those imprisoned.
[ ... ]
Former inmates face enormous obstacles. Besides being ex-cons, whatever skills and social networks they had eroded. In addition, many are burdened by substantial financial obligations, including child support, alimony, restitution, and other court-ordered fees. Past studies confirmed it, including Freeman in 1991 finding substantial negative employment effects because of incarceration, and Grogger in 1995 concluding the same thing.
[ ... ]
"Former inmates experience relatively high levels of unemployment and below-average earnings," mainly for educational deficiencies as well as poor work histories. Incarceration greatly compounds these challenges. Former inmates work and earn less than their counterparts. On average, incarceration eliminates around half their earning power through age 48, besides what's lost while in prison.
[ ... ]
The damage on children is significant. One study found family income falling 22% with imprisoned fathers, and even after release remained 15% lower. Moreover, Economic Mobility Project data show parental income is one of the best indicators of a child's upward economic mobility chances. Many children with incarcerated parents also fare poorly in school. One study found 23% with an imprisoned father were expelled or suspended, compared to 4% for their counterparts. Given the importance of educational achievement, the findings are especially troubling, bearing negatively on their chances for upward mobility.
Corporate prisons in the USA are among the worst in the world with rape and murder, because they exist outside the protections of many Human Rights treaties, even the 13th amendment which outlaws slavery says prisoners have no rights at-all.
"California to ship more prisoners out of state" by Marisa Lagos from "San Francisco Chronicle [
http://www.sfgate.com/cgi-bin/article.cgi?f=%2Fc%2Fa%2F2010%2F11%2F30%2FMN9C1GFTB2.DTL
]
2010-11-30 -
California, under pressure to reduce the number of inmates in its crowded prisons, has steadily increased the number of convicts it sends to private institutions outside the state since Gov. Arnold Schwarzenegger began the program in 2006.
[ ... ]
Critics of moving prisoners to out-of-state facilities say it does little to relieve the underlying problems that have caused crowded conditions and questioned the timing of the new, no-bid contracts with two private companies. One of the companies houses nearly 10,000 California prisoners.
[ ... ]
When California first signed contracts to ship prisoners over state lines four years ago, it began with 2,260 inmates at a cost of $51 million annually. Now, it is set to pay the companies $360 million a year to house 15,424 prisoners, and spend more than $636 million annually once administrative costs are factored in.
[ ... ]
About half of the new inmates - 2,580 - will go to a Michigan facility owned by GEO Group Inc., which signed a new contract with the state earlier this month. The other half are to go to prisons in Colorado and Minnesota, though the state is still negotiating with the owner of those facilities, Corrections Corp. of America. The corrections company already houses 9,941 California inmates and is the nation's largest private prison company.
Corrections Corp. of America also was the subject of a recent National Public Radio investigation that alleged that it and other prison companies helped draft and pass a controversial Arizona immigration bill approved earlier this year - a law that could increase inmate population numbers and therefore benefit the private prison industry's bottom line. Corrections Corp. of America denies any involvement, saying in a written statement that the company had "absolutely no involvement whatsoever in drafting or writing the legislation."
Still, critics argue that the very practice of making profit-driven companies part of the criminal justice system is alarming.
"If you can get over the civil libertarian issue and morality of putting people in prison for profit ... you end up with a market that needs to be fed, which is pretty scary," said Ken Kopczynski, executive director of the national Private Corrections Working Group, which advocates against the private prison industry.
Student Power:
"Democratize the UC Regents"
by j.andreson1

[http://mobilizeberkeley.com/?p=777]
2010-11-30 -
Please sign a petition to encourage our State Legislators to consider changing the UC Regent System to more accurately represent the needs of the campus community. This is to show widespread support for a different system and discontentment with the status quo. For more information on how to democratize the regents, and what has been done before please visit www.ucdemocracy.org
Political Prisoners:
"Protesting priest posted to pokey" by Kevin Fagan from "San Francisco Chronicle" newspaper
[
http://articles.sfgate.com/2010-11-28/bay-area/24949540_1_western-hemisphere-institute-vitale-fort-benning
]
2010-11-28 -
Just in time to enjoy fine Southern prison holiday cooking, the Rev. Louie Vitale has protested himself back into the pokey below the Mason-Dixon Line. The 78-year-old Franciscan priest wound up there after flying out from his Oakland home to join an annual protest Nov. 20 at Fort Benning in Columbus, Ga. It's the same sort of peace protest Vitale has participated in hundreds of times all over the nation, and he got the same sort of reaction he has had dozens of times. He got arrested for trespassing. Vitale was hopping property lines this time to protest the workings of the fort's Western Hemisphere Institute for Security Cooperation, which used to be called the School of the Americas. Peace activists say it trains Latin American military personnel in the art of torture and other nasty crafts, but institute spokesmen say it really just promotes peace and cooperation throughout the region through its police and military training.
The two sides have long been far from any agreement. Which, of course, led to Vitale's encounter this month with handcuffs.
[ ... ]
Photograph by Paul Chinn from "San Francisco Chronicle":
"Father Louie Vitale has been jailed yet again in an effort to bring peace and social justice."
"LA-ABCF Statement of Support for the Black Riders"
[
http://www.abcf.net
]
2010-11-16 -
The Los Angeles branch of the Anarchist Black Cross Federation (U.S. political prisoner/POW support group) is expressing its support of members of the Black Riders Liberation Party (BRLP) in light of the repression they are facing from the corrupt LAPD and criminal (in)justice system. The police have a history of showing their hatred for the BRLP and the work they do in the community (survival programs that include political education, halting gang violence, and mobilizing people for events such as meetings for the Justice for Oscar Grant Coalition). Members have been repeatedly stopped and harassed on the streets, arrested on trumped-up charges, had their headquarters raided, and criminalized as "domestic terrorists" and (ironically) "gang members."
On November 5th, 2010 the Black Riders stood with a crowd of people demanding justice for Oscar Grant and his family during the sentencing of Johannes Mehserle at the LA Courthouse. That day a plain clothes police officer who did not identify himself lunged at the Riders (who were lined up, protecting people from any potential violence from the police) and forcefully shoved Kambui Sadiki (a BRLP member). This initiated a physical altercation in which Kambui protected himself, before the other Riders pulled them apart. Police moved in and arrested four of the Riders and charged them all with "battery and assault on a police officer".
Since then two of the Riders have been released, but Kambui Sadiki and Noor Bey remain in custody. Both of them face lengthy prison sentences due to "violating parole/probation." Merely associating with the Riders is considered criminal due to their "gang injunction."
On top of this, the Riders are also facing a charge of "vandalism" stemming from anti-Nazi flyers posted around the city before the Neo-Nazi "Nationalist Socialist Movement" held a rally on the steps of the LA courthouse (April 2010).
The Riders are in desperate need of financial, legal and community support. Even now repression against them continues. One of their vehicles has "mysteriously" been damaged repeatedly last week: slashed tires, bolts missing, then the wheel axle dismantled. LA-ABCF urges the community to recognize that the real criminals here are the corrupt and violent police defending a corrupt and violent (in)justice system, in league with Oscar Grant's murderer, Officer Mehserle.
This repression is a continuation of police violence against people of color, which is now so bold that police feel free to assault people even in the face of one of their own being sentenced for killing an unarmed Black man.
The attacks on our communities and comrades have got to stop!
We've got to work to free the Black Riders and end their repression!
These men and women are NOT part of a gang, they are part of a movement to empower people of color and stop police brutality!
We can't let the cops silence us for exposing their criminal violence and corruption!
FREE THE BLACK RIDERS! ALL POWER TO THE PEOPLE!
[
http://www.myspace.com/blackriderliberationparty
]
[
http://blackriders.raisethefist.com/index.cgi?go=case
]
Photo by Charlene Muhammad from "Final Call" newspaper: "
Mbulelo Najjim, Minister of Art and Information for the Black Riders Liberation Party speaks at a press conference, March 4, 2008."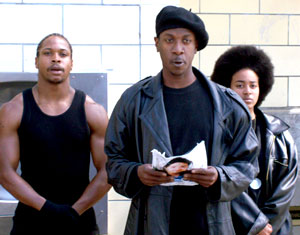 "Associated Press" photo by Damian Dovarganes: "Members of the Black Riders Liberation Party rally on the sidewalk in advance of the sentencing of former transit police officer Johannes Mehserle for killing an unarmed man at an Oakland train station, outside the Criminal Justice Center in Los Angeles Friday, Nov. 5, 2010."
"Ga. court upholds cop-killing conviction" from "Associated Press"
2010-11-08
ATLANTA — Georgia's top court unanimously upheld the conviction of a former member of a violent revolutionary group who evaded prosecution for 30 years before he was found guilty of killing an Atlanta police officer. Freddie Hilton was convicted in 2003 of the killing of Officer James Richard Greene, who was shot and killed in his patrol car in 1971 at an Atlanta gas station. Hilton was a member of the Black Liberation Army, a group that advocated killing policemen to protest racial discrimination. Greene's badge and gun were taken after the shooting, a mark of the revolutionary group. Hilton, who is now known as Kamau Sadiki, said the trial judge made a series of errors and asked for a new trial, but the court said the evidence was "sufficient" for a jury to find him guilty.
---
Free Kamau Sadiki
[
http://www.freekamau.org
]
Kamau Sadiki has always maintained his innocence and has been a loving father and grandfather, steadily employed for 30 years.
On November 10, 2003, Judge Stephanie Manis sentenced Kamau Sadiki to life imprisonment for murder and ten (10) years to run consecutively for armed robbery after a Fulton County Superior Court jury found him guilty for the murder of Atlanta Police Officer James Green on November 3, 1971.
At the time of the murder, nineteen year old Kamau Sadiki was a member of the Black Liberation Army (BLA) which was led by John Thomas. Several members of the BLA, including Mr. Sadiki, left New York City and lived in the Atlanta area for a short period of time. On the night of the murder, two witnesses observed three black males run from a van where Officer Green sat at a gas station in downtown Atlanta. The witnesses failed to identify Mr. Sadiki from a photographic line-up.
There was no physical evidence that implicated Mr. Sadiki.
In 1971, the Atlanta police department closed the case as unsolved.
In 2001, following increased interest in terrorism, one such former BLA member gave a statement about the 1971 murder after being detained during a traffic stop. With no eyewitness testimony and no physical evidence, the State based its case entirely upon the statements of three former BLA members who were present in Atlanta at the time of Officer Green's murder. Mr. Sadiki was arrested in 2002 in Brooklyn, New York some thirty one (31) years later after the murder.
After a lengthy jury trial in Fulton County Superior Court that began in September 2003, Mr. Sadiki is now serving his sentence in Augusta State Medical Prison in Augusta, Georgia.
Attention: Fair Use rights reserved:
Title 17 U.S.C. § 107. Limitations on exclusive rights: Fair use -
For more information visit [http://www.law.cornell.edu/uscode/17/107.shtml]
The act of providing articles and hyperlinks, as an expression of
journalism, is to research and collect verifiable information,
and does not constitute an endorsement of the "veracity of truths" or political-positions produced by the
sources.